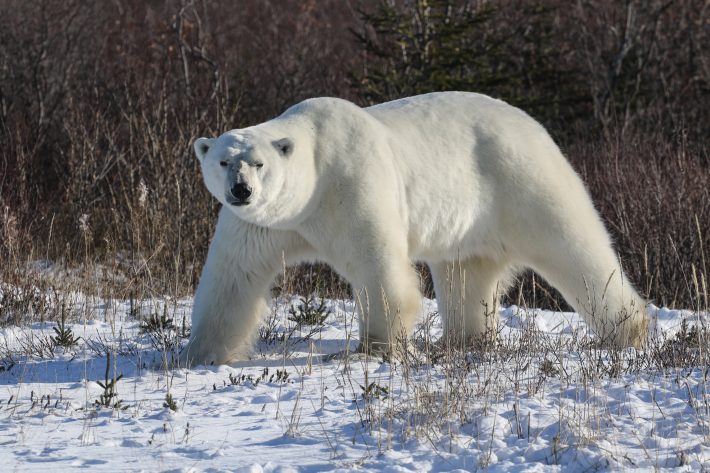 We have been to photograph Polar Bears twice in Svalbard Norway and once in Wrangel Island, Russia with good success. But all were from a ship and we wanted to see if you get some from a different angle. When the opportunity to photography the polar bears on foot in the Hudson Bay we jumped at the chance.
Our base of operations was Nanuk Polr bear Lodge, about 300 km south east of Churchill, Manitoba and only accessble by air. But first we had to fly to Winnapeg.
Day 1
Our full first day in Canada was good. We had some wildlife sightings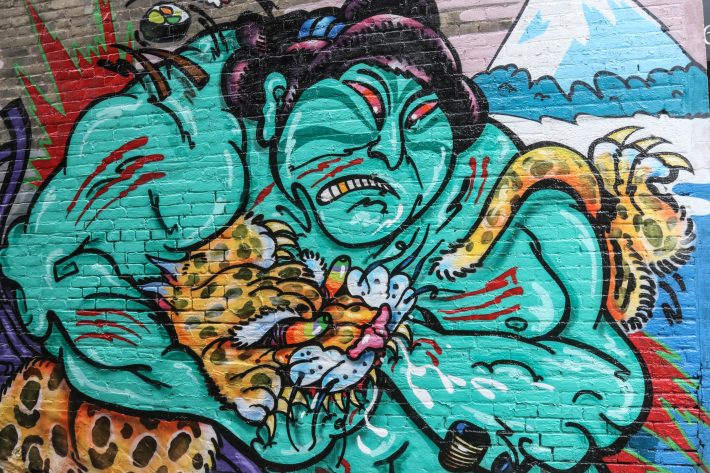 oops, wrong picture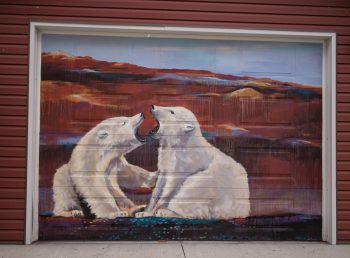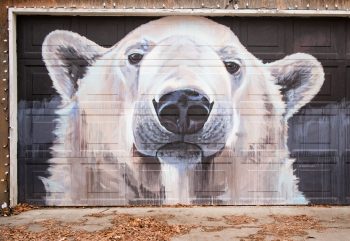 Two highlights of Winnipeg are their murals and their Museum of Human Rights. The murals are all over town and make for some good photo ops. The Museum of Human Rights, which is the only national museum of Canada outside of Ottawa, is striking in its architecture.
.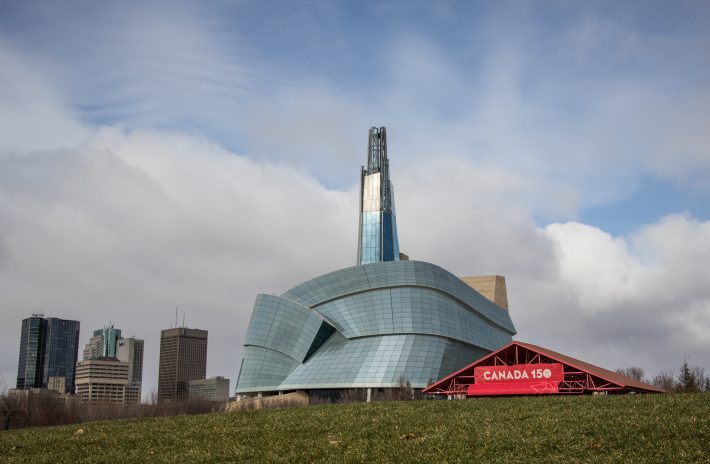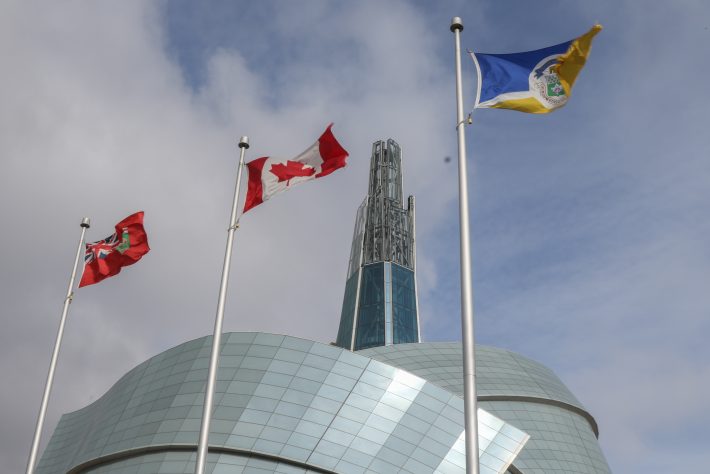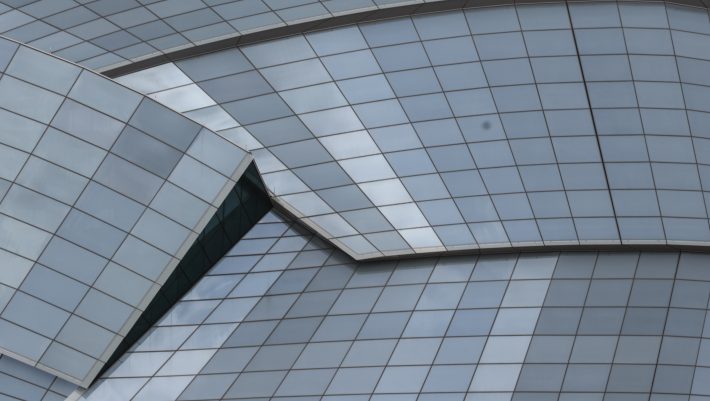 Day 2
For our flight to our lodge we had a 4:30AM wakeup, and despite their threats the airlines didn't weigh our carry-ons (which we had worked hard to get down to 20 pouunts apiece, about half of our normal.) To Churchill it was a 737 cargo plane and then to the lodge an Otter- not the most luxurious but we flew at 300 feet so it was interesting, and with the no separation between the passenger and luggage areas, unusal to say the least.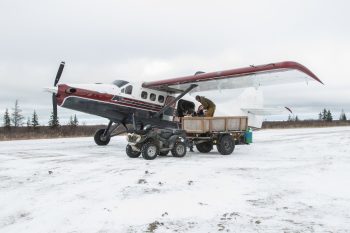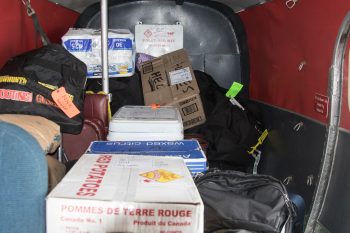 The Lodge was nice, but from our initial experience misnamed. It should be called Nanuk Wolf Lodge as just as we were leaving the compound on our first safari drive we ran across two wolves. And they were the only mammals we saw that day- no bears.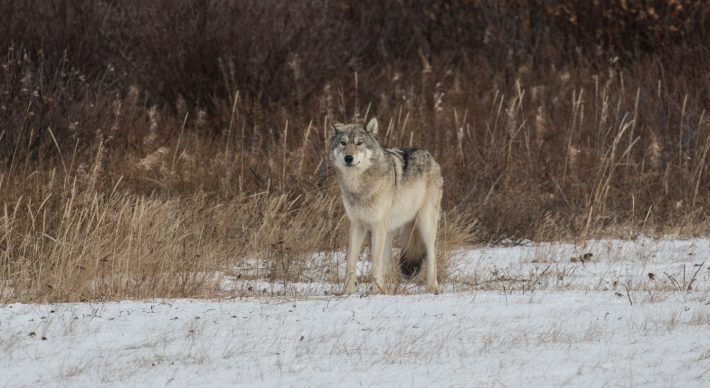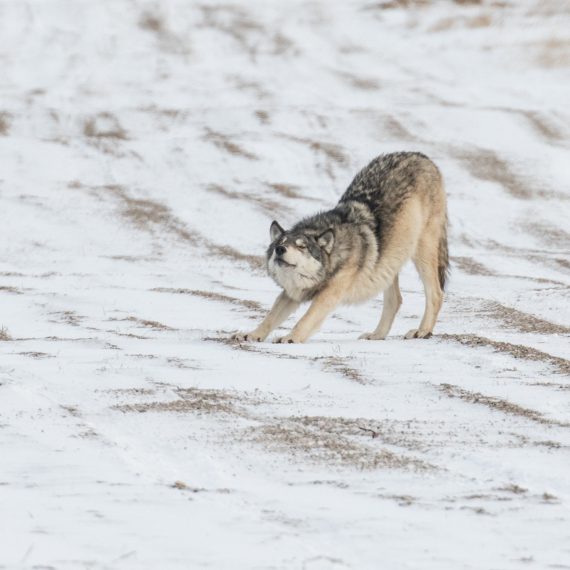 We also got bird on a stick – a nice boreal owl. Nothing else.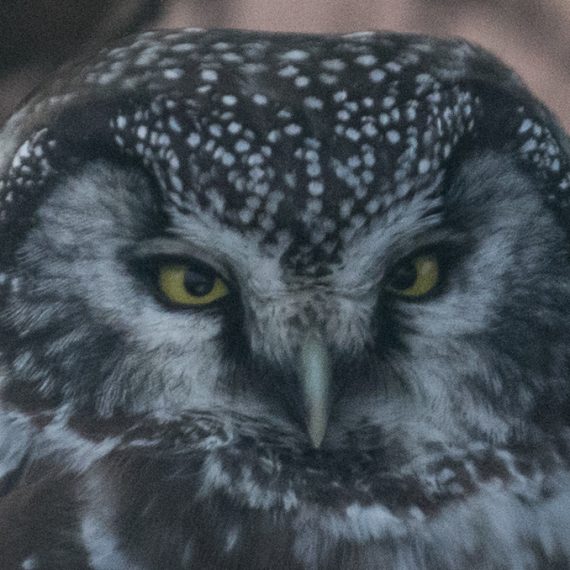 The Lodge's vehciles were 8 wheel drive buggies that they called their Rhino because, well it looks a little like a Rhino and like a Rhino, it can go most anywhere and it enabled us to cover a lot of ground.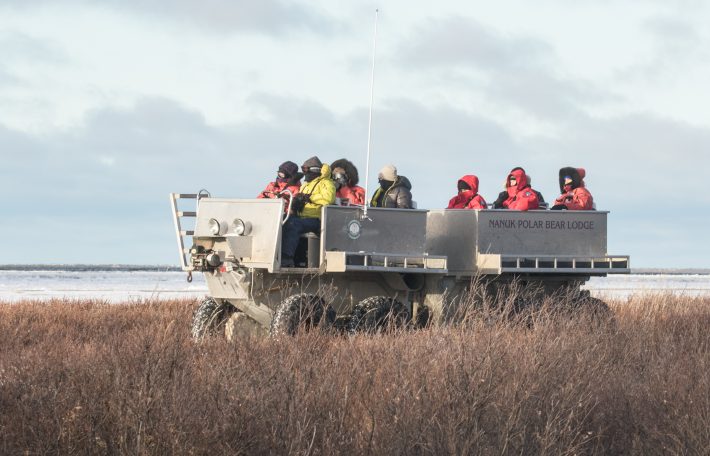 We thought was cold – in the 20's, little did we know this would be one of our warmer days of the trip.
Day 3
Nanuk Wolf Lodge lived up to its name. We had a spectacular wolf photo opportunity in the morning as while on foot we spent 40 minutes with 3 wolves. They ended up in the open and one came within 40 feet of Jon. It was a real thrill. Jon was ready to get down low to get the killer shot when our guide (who was standing right next to him) took his rifle off his shoulder and Jon then decided to go conservative and didn't get low where he would look like prey to the wolf. He is the one in orange below.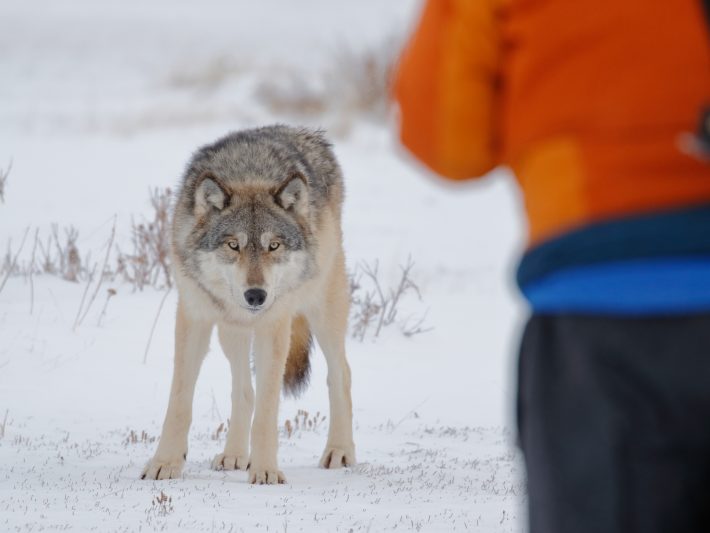 We got some other good shots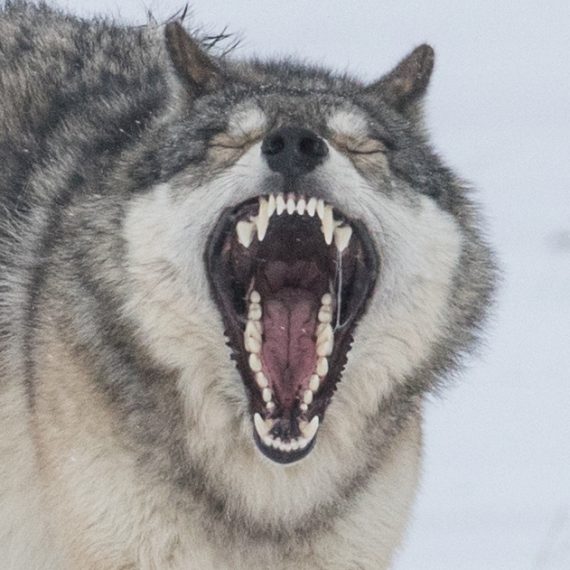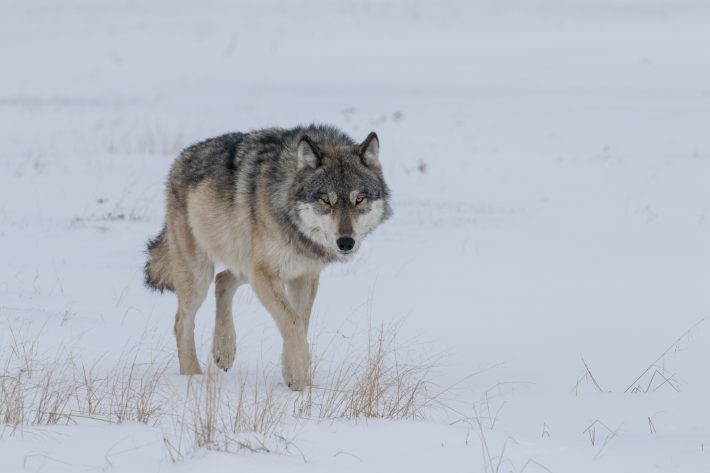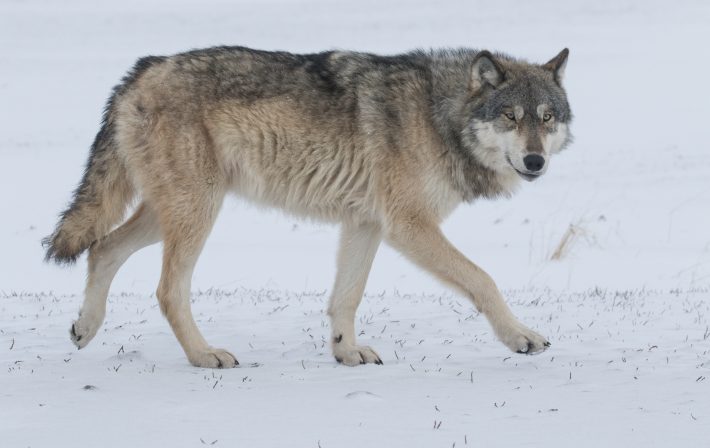 The last one is full frame at 225 (35mm equivalent)!
And we did see a bear, though it was far away and all we got was record shot, cropped and how it really looked uncropped.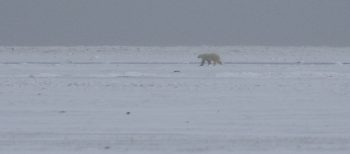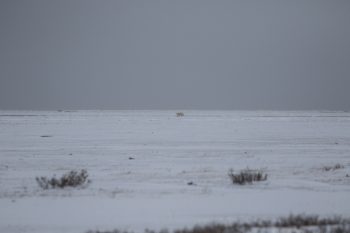 But there was a lot of distance and 2 rivers between him and us so we never got any closer.
The afternoon started out OK, some more wolf pictures (there is a pack hanging around the lodge) but soon the weather deteriorated, as did our experience. It started to snow and visibility dropped. While it didn't reach white out conditions, it wasn't good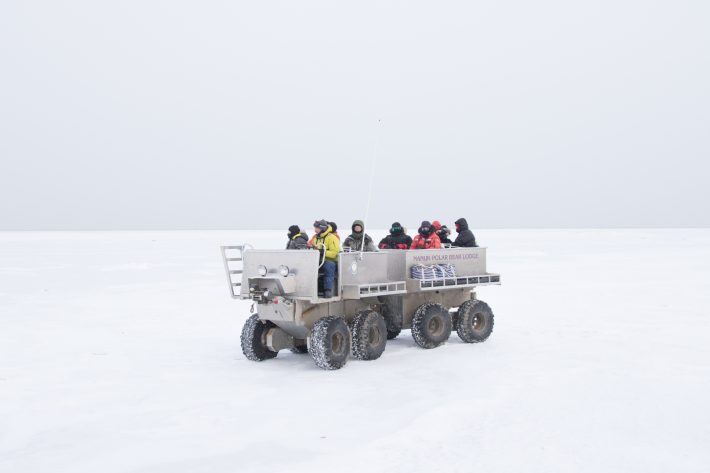 and Catherine was the only smart one as she got an early ride back to the lodge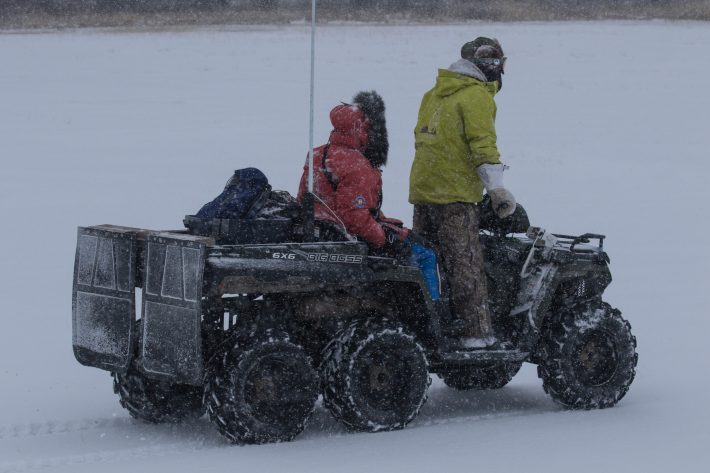 Tomorrow the temperature is expected to drop to the teens or below. We'll see how long we last.
Day 4
This day we saw polar bears and by unanimous agreement this was our best picture: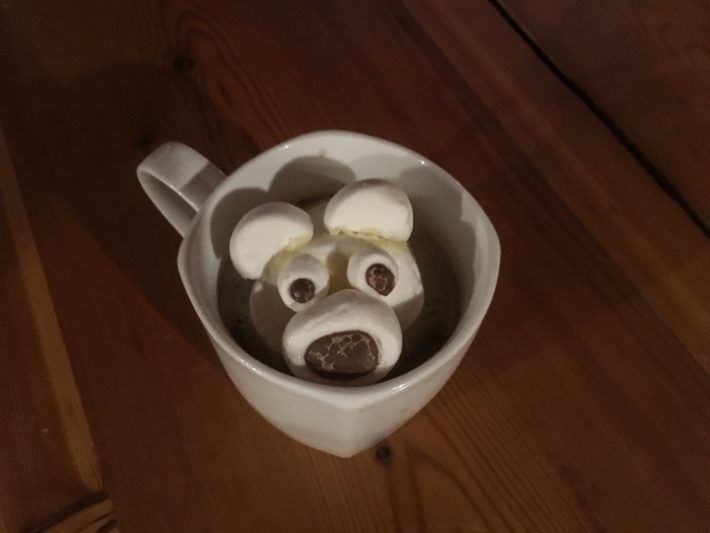 Seriously while we did see two bears they were aways far away. But one was close enough and receptive enough for us to get out of our rinos and walk towards the bear. There was disagreement on distances so I am using mine. We started about 400 meters away and got within about 100 meters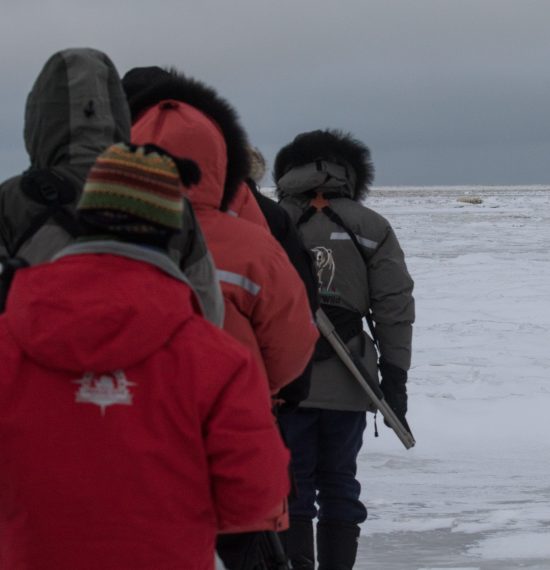 Then the bear moved back several hundred meters. And so we approached him again when we got within 100 meters he moved back again, establishing the parameters of his personal space. So we moved on. My second 'best' shot (significantly cropped)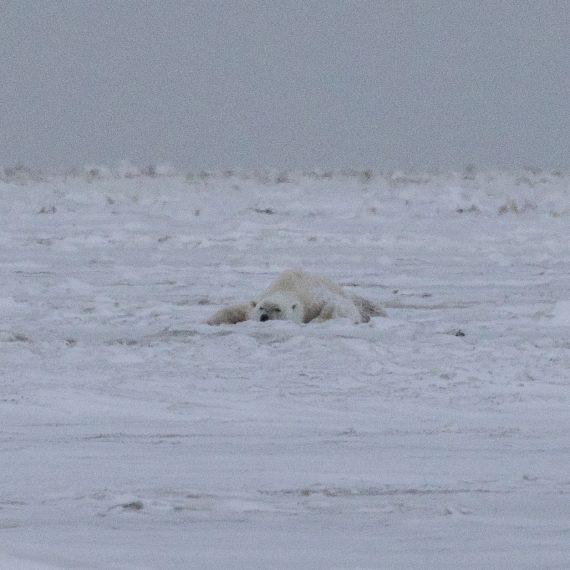 We had to cross several frozen 'rivers' (average depth 6 inches), and had our problems.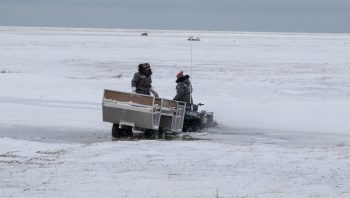 That was not a Rino buggy but our problems with them were worse. First the battery went out on one, necessitating a new battery, and of course the battery location required emptying it.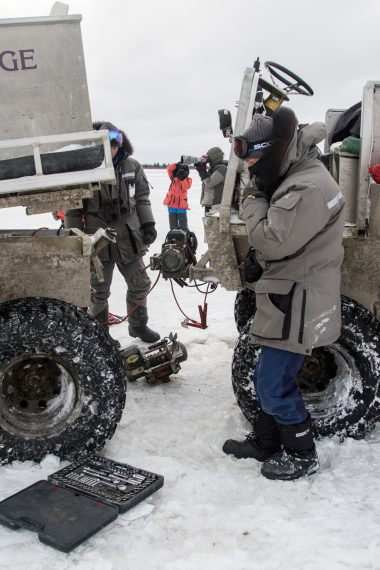 That was in the morning, in the afternoon we hear the guide call the lodge and say "the engine is red lining and over heating". The response was don't worry, the engine has a automatic overheating cutoff and you won't blow up the engine. So we didn't head immediately back to the lodge and continued looking for bears. Soon after we crossed a difficult stream and then the engine died (it was past 4:30PM at this point with a 5:00PM sunset). Long story short they had to ferry us back in a 6 wheel ATV to the lodge. The Rinos arrived back at the lodge well after dark.
The temperature this morning was -15C (5F), and that was before the wind chill factor which dropped it well below zero.
Day 5
Success! Finally saw a polar up close (average estimate was 50 meters)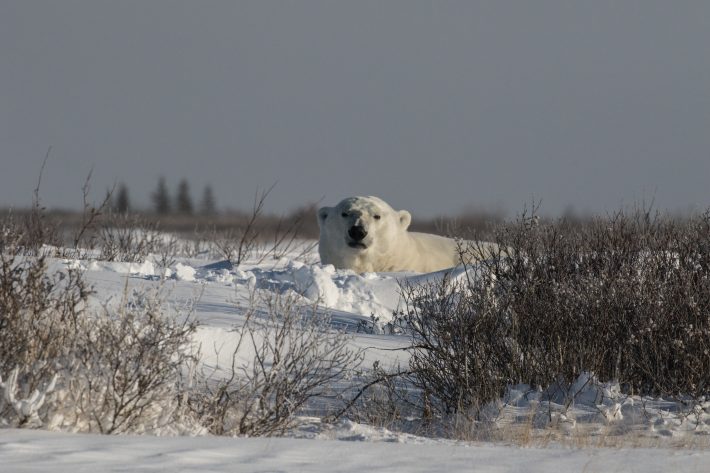 We first saw him in the willows along the shoreline and we were able to get some good shots of him.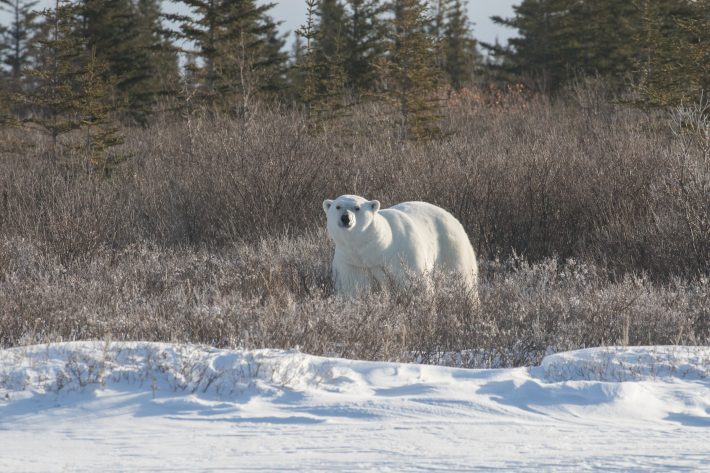 Then he moved into the snow and dug himself a small day den and settled in for a lazy day. We then started our walk of a couple of hundred meters and waited for him to lift his head up and look around, which he did every 5-10 minutes.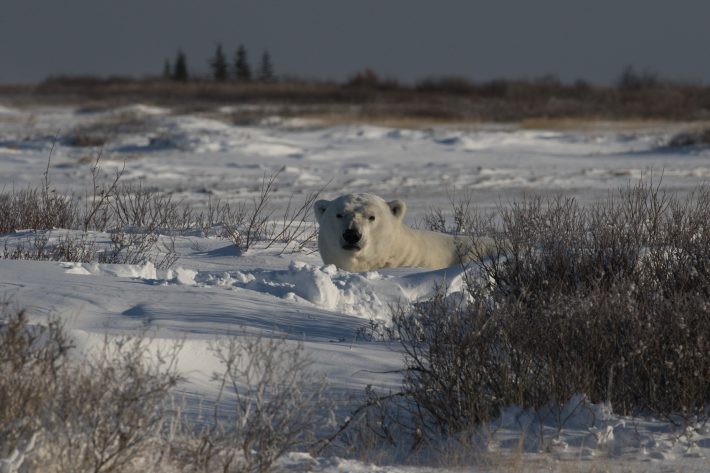 After a while, the cold overcame our photographic interest and we hustled back to camp in our Rhino Buggy for a well deserved hot chocolate.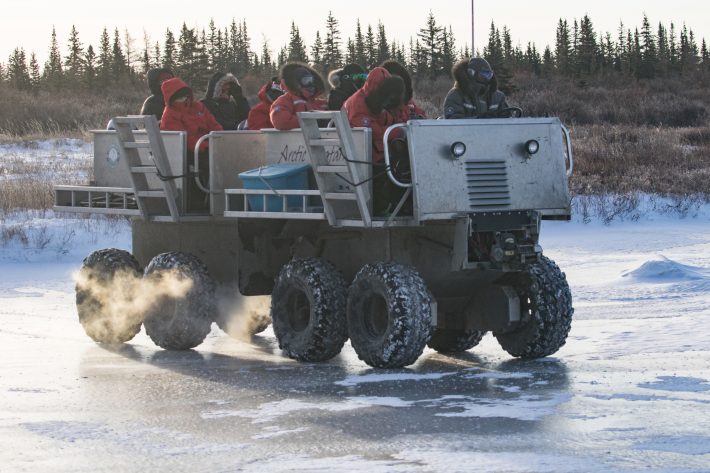 For our afternoon shoot we returned to the bear, and he was hunkered down even more, barely lifting his head up and so we left him fairly quickly, just in time to see a red fox go by.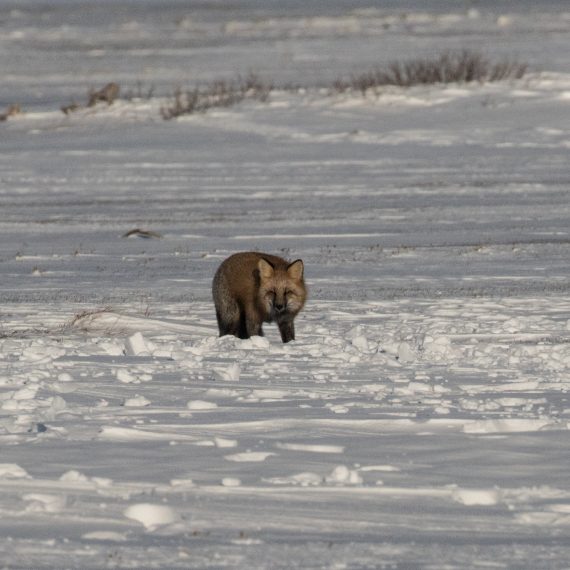 It was even colder than yesterday and the coldest day of our trip, here was our weather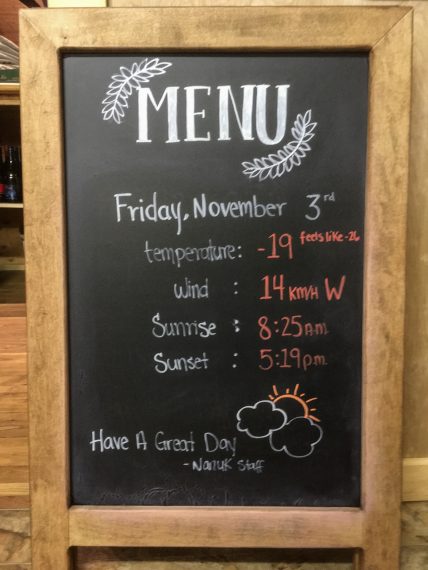 -19C is -2F while with the wind chill factor -26C equals -15F. Burr. It was so cold that Catherine stayed in the morning and missed the bear shot, and both of us quit early on the afternoon shot and missed nothing.
Day 6
Another new event today – a bear visited the lodge. Problem was we were out on a safari drive!. But we saw him headed towards the lodge and were able to follow him, and get inside the compound where we could photograph him outside of the lodge's fence.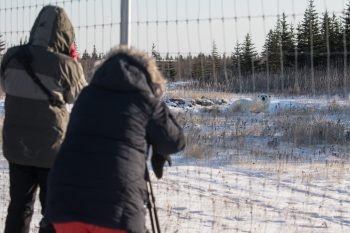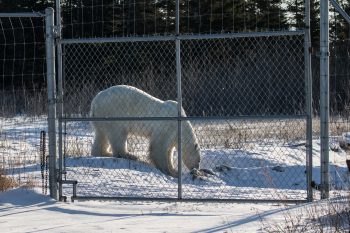 He dug a day den nearby and settled down for a mid day snooze so we went in for lunch. By the time we went out for our afternoon safari he was up and about, visiting the lodge's 'corporation yard', or "Home Depot" as the staff called it.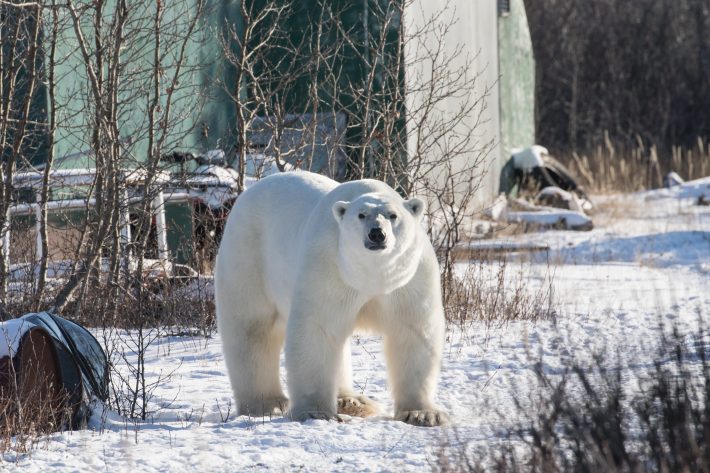 And he put on quite a show as he moved towards Hudson's Bay working his way through the willows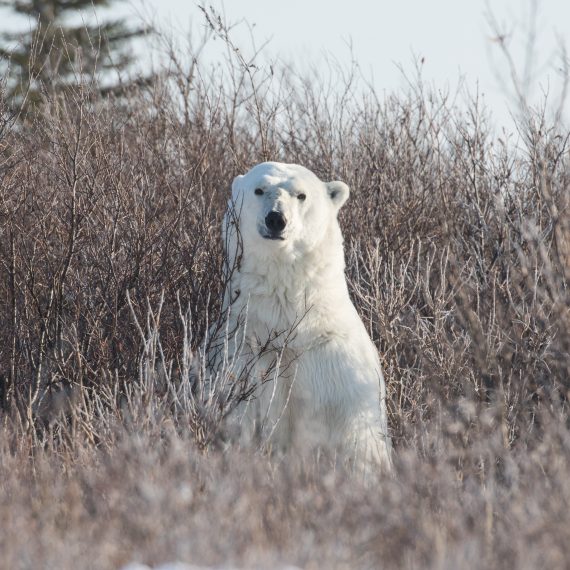 There he dug another day den and settled in for his afternoon nap so we moved on. Later we ran across the day den of another bear, which swallowed a 6+ footer up. It was big.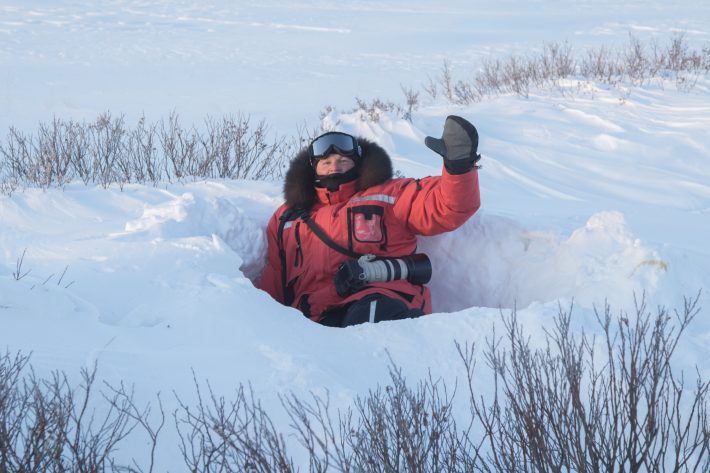 The weather remains cold, but did get above 0 F. It made for challenging photography.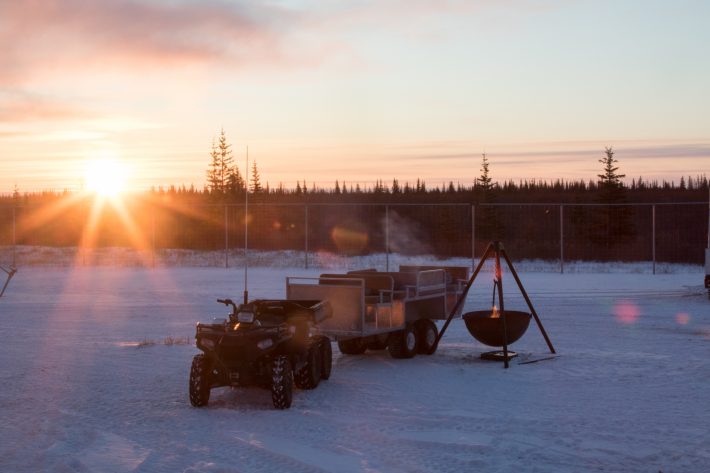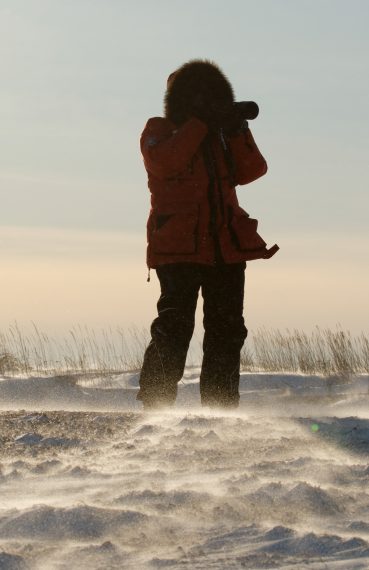 This was our last full day, and we started our travel to home and warm weather the next day.
Day 7
This is the day we escaped the cold and made it back to Winnipeg. It started out with a big surprise, the delicious Canadian mush Red River was made in the US!. It was a shocker because the waitresses had been peddling it as a perfect Canadian way to start to a cold morning ( it was).
Speaking of cold, it warmed up a bit to 10F and off we went on a short game drive after breakfast. Not very productive, no big mammals (bear or wolf) only this beautiful Willow Ptarmigan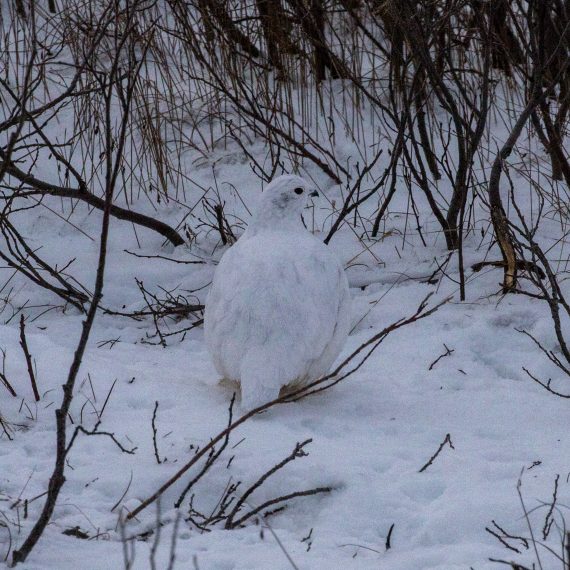 But it didn't even make our big, slow and colorful criteria for birds photography. While it was colorful, as white as the snow (funny how nature's camouflage works), it was not large or slow.
Then we hung around the lodge for lunch waiting for our plane to arrive. In contrast to the outside temperature it was warm and cozy inside.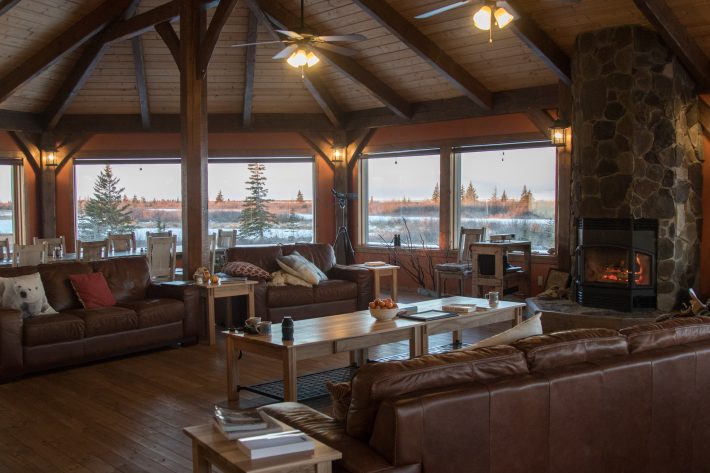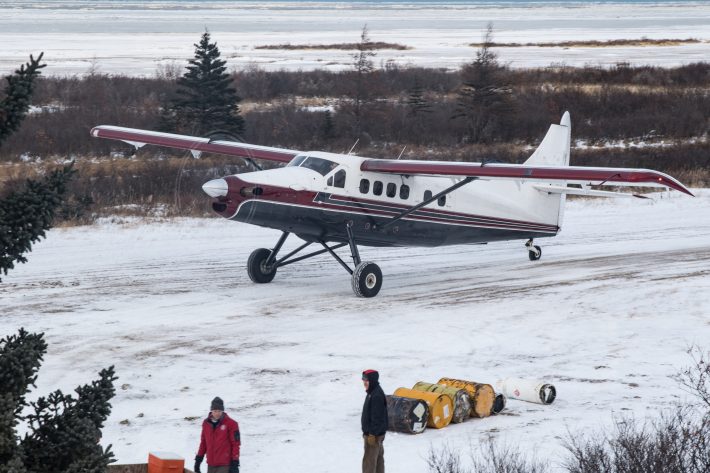 Watching the loading was a kick, no conveyer belts or automation here.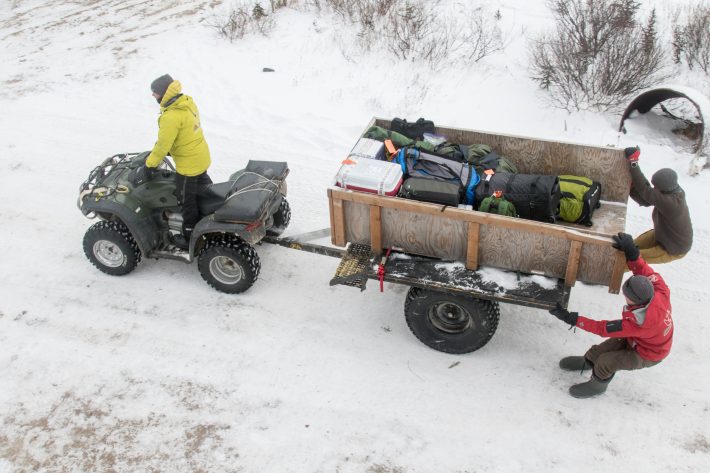 Our flight to Churchill was uneventful, too uneventful as we didn't see any wildlife. The landing was a different story. We slide off the runway when we landed and had to call for help. Turns out the rear wheel fell off on landing.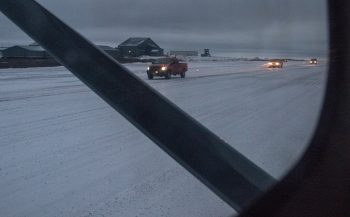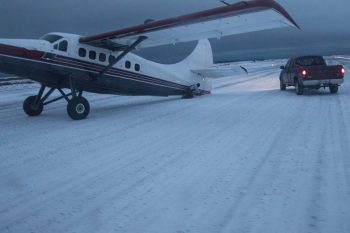 You can see how big the wheel was from the picture of the plane landing. Nobody was hurt and we were off loaded to our bus – while we were on an active runway there was not any traffic. It was close to 5PM by the time we hit downtown Churchill so some of us hit the bar and some went shopping. No stop lights so no need to worry about traffic.
Flight to Winnipeg was OK except we didn't get to the hotel until 11:30 ish. And then home the next day with good memories and photographs of the bears.