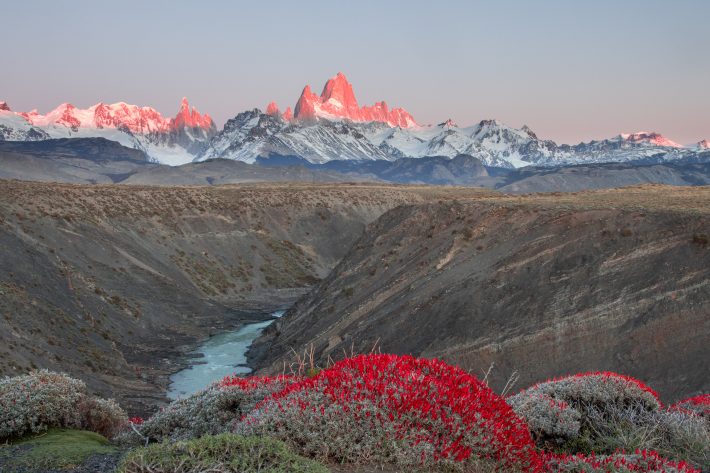 Because last year's trip to see the Emperor Penguins was a success but only gave us 3 days with them, we decide we needed to get an another dose of penguins to satisfy our penguin obsession. So we seized on the opportunity to go probably the best place to photograph penguins in the world – South Georgia Island. No, this is not an island south of Atlanta, but an island approximately 1,200 miles east of the Southern tip of South America in the middle of the Southern Ocean.
As it takes a good day plus to get there to Ushuaia, Argentina where our ship left, we decided to amortize our travel time, recover from the flights, adjust to a new time zone (4 hours ahead of home) and visit Argentina's Patagonia. We spent 3 days last years, so decided to double our time there and explore the region a bit more.
We headed for El Calafate in Argentina's Patagonia, about a 3-hour plane ride Southwest from Buenos Aires and immediately made a bee line for the Fitz Roy mountain which juts up 10,000 feet from the surrounding territory and is the landmark of Ageentina's Patagonia.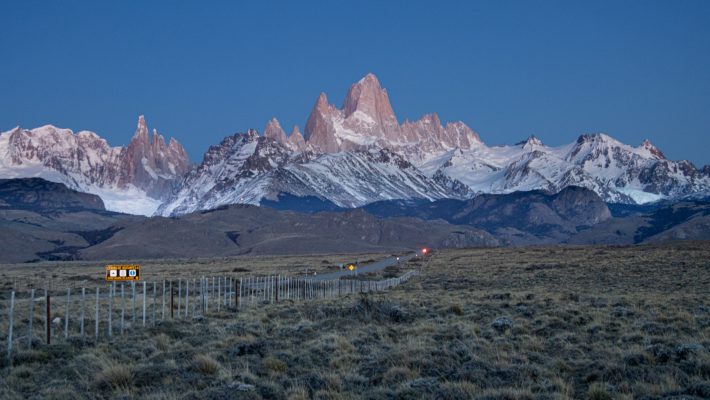 As we experienced on our last trip to the far South, we ran across large groups of Chinese tourists, this time a caravan of 11 vehicles which were on a DrivCool Driving Around Argentina self-drive tour.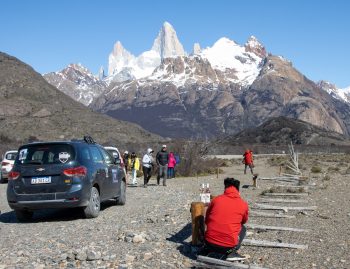 Another attraction of the area were the waterfalls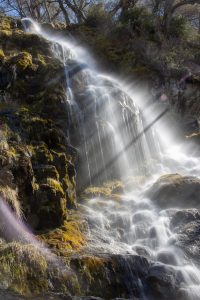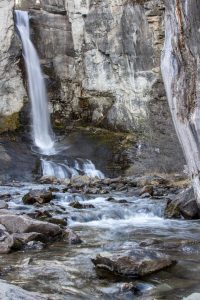 Just in case you thought we had lost our minds and became landscapes photographers, we photographed a lot of wildlife such as the Guanaco, a cousin of the llama.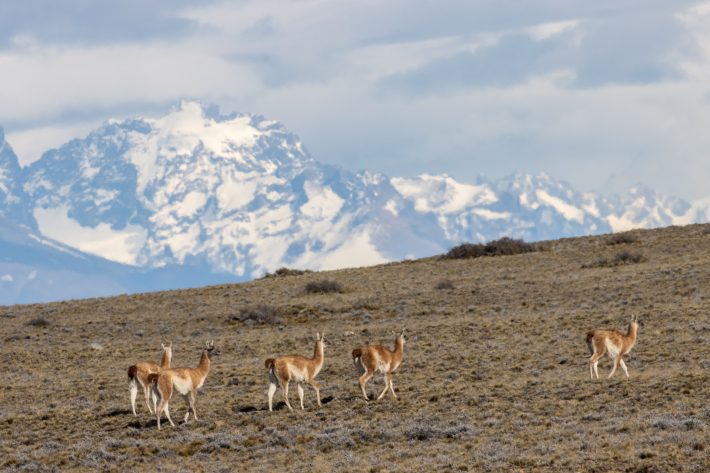 A big challenge for the Guanaco is the numerous fences which crisscross their grazing range and must be negotiated many times per day.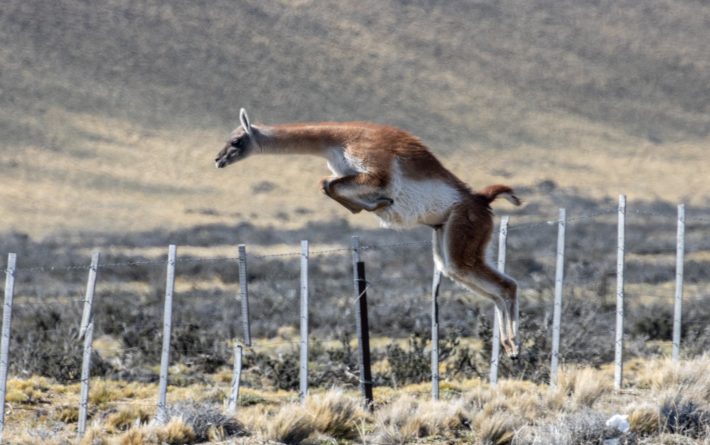 The area is also known for its condors and we saw many, though most were up high in the sky.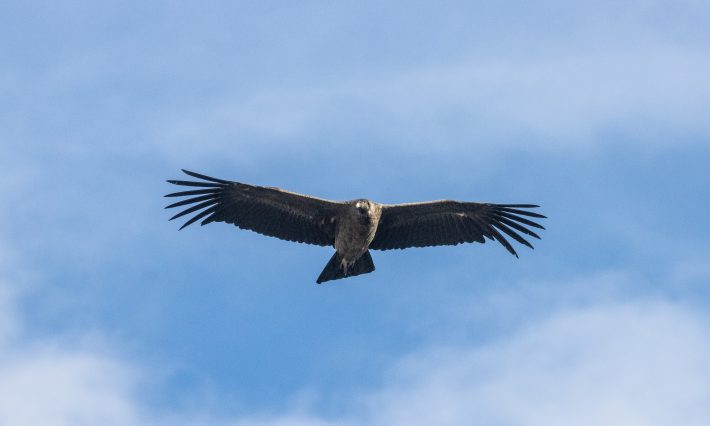 One afternoon in a rare treat we saw one coming in for a landing, but not for benign purposes. It was going to try to steal a baby lamb that some eagles had in their grasp.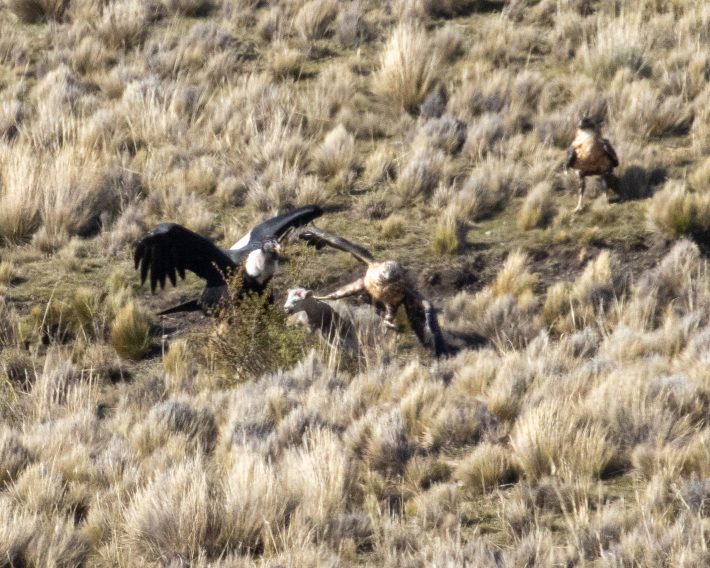 The battle went on for almost a half hour. In the end the eagles and condors proved to be better scavengers than killers, were unable to kill the lamb and it escaped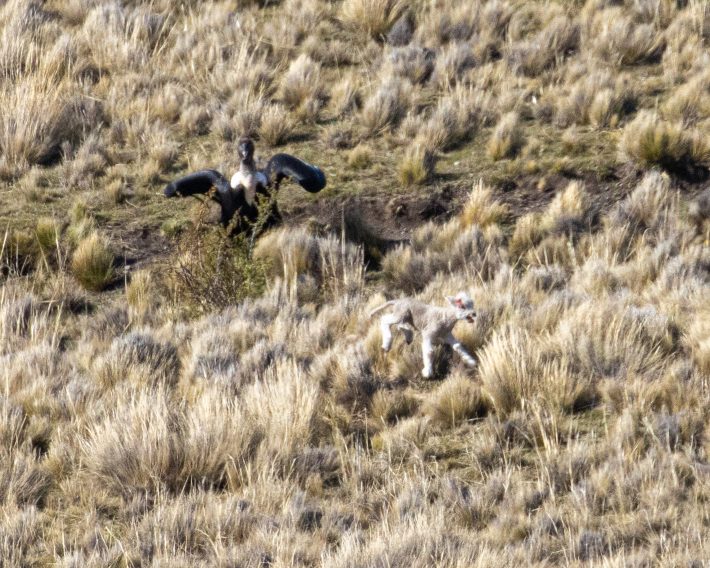 When we returned to El Calafate we revisited the Laguna Nimez Reserve, a city run bird reserve which we visited on our last trip. There a major target was the Flamingo, and unfortunately we had the same luck as most places we have tried -bad, as the flamingos moved away every time we got close. But we did get some decent shots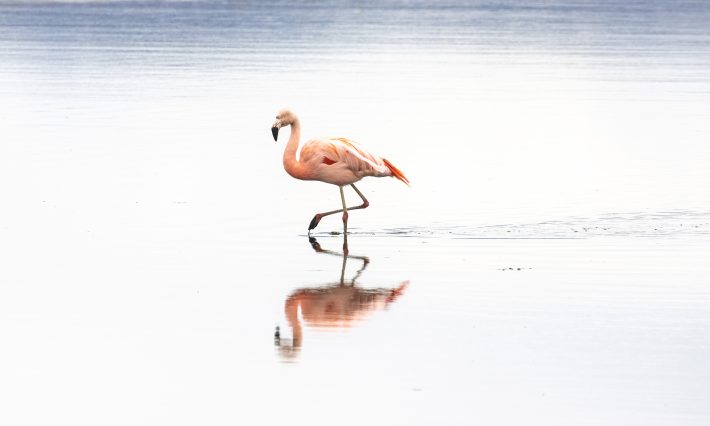 Other interesting birds at the lagoon included:
Black-chinned siskin and the very common Upland Goose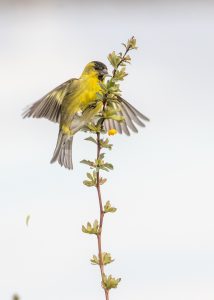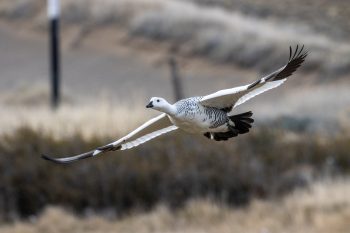 On our trip to Farne Island in England we saw gulls who harassed the puffins with fish. It was interesting to see the same gull behavior half a world away. Here the gulls harass the black faced Ibis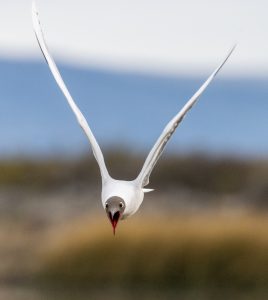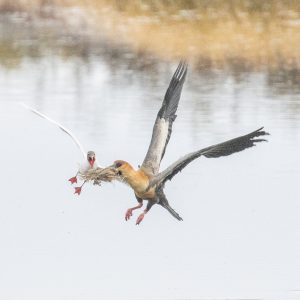 Though what use the gull had for the nesting material I do not know.
Agrentina is not a small country. From North to South it is 5,000 kilometers (3,107 miles), about the distance from San Fransico to Boston. Ruta 40 travels the whole distance making it one of the longest roads in the world and is a classic Argentine road trip. These folks where taking a couple of months to do it in this car: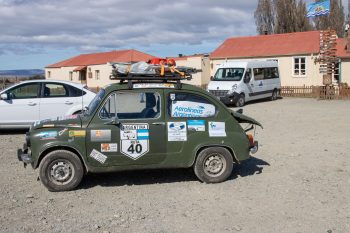 While not fans of flying, we passed on heading south with them and instead flew to Ushuaia at the Southern tip of South America where we would board our ship for our South Georgia adventure.