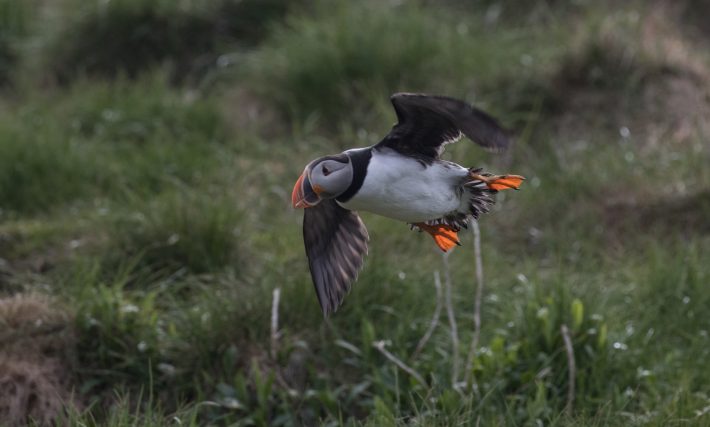 Our favorite birds to photograph are big, slow and colorful.  Despite the fact that puffins are small and fast, their color and cuteness makes them one of favorite birds.  When we heard that Newfoundland had several large colonies, as well as gannets, whales and icebergs (it is right in the middle of iceberg alley), as well as friendly people and great landscapes we decided to go.
One concern in going north in the summer is the weather.  If summer comes a little late, you are liable to run into some nasty weather.  And when we arrived the daily forecast was clouds today and rain tomorrow so we were concerned.  And more concerned when the forecast was the same every day.  The good news was that 'tomorrow' never came.  We avoided the rain until our last night and then we like to think it Newfoundland crying because we were leaving 😀
With rain in the forecast, we were concerned that we won't get any puffin pictures at our first stop in Witless Bay.  Our concerns were heightened when we were told we were a week early as the capelin (the puffin's favorite food) hadn't arrived due to the late winter.  While we beat the rain we didn't beat the wind (it was as bad as the Falklands, well over 20 knots on average) and our preferred boat trip was cancelled.  But we went out on a different tour and then when the winds died down went out twice with the operator we wanted. We got up close to the puffins and they were as cute as expected.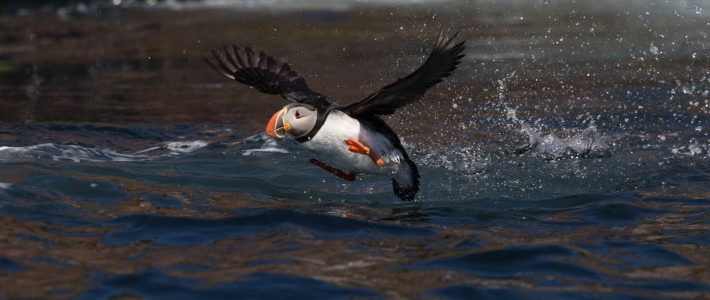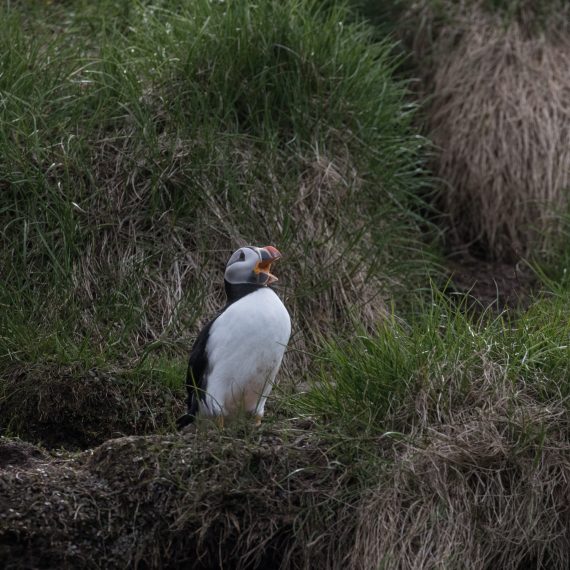 Our next stop was Cape St Mary's with its over 20,000 nesting gannets.  When we arrived it was the same story: rain in the forecast, the fish hadn't arrived and it was blowing a gale. It was blowing so hard that on first night there Jon was the only to go out to where the birds were.  Because it was blowing so hard that he stayed for only about 20 minutes –  the viewing area is about 20 feet wide and the drop off over 300 feet and he didn't want to get blown off.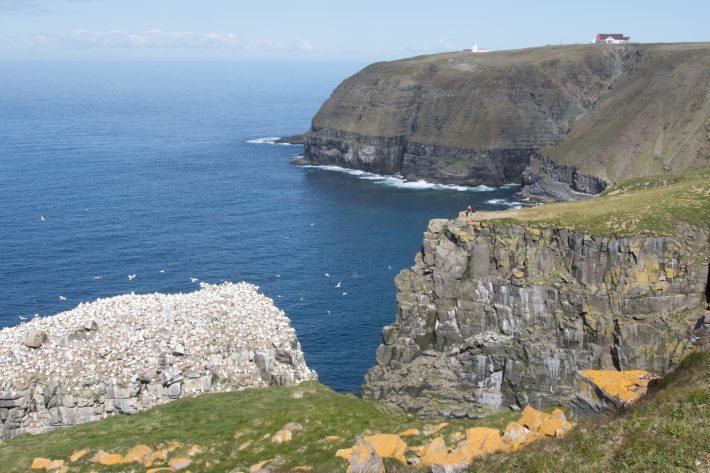 For scale there is a photographer on the right and those white dots on the left are the gannets.  Gannets are large birds with wingspans over 5 feet.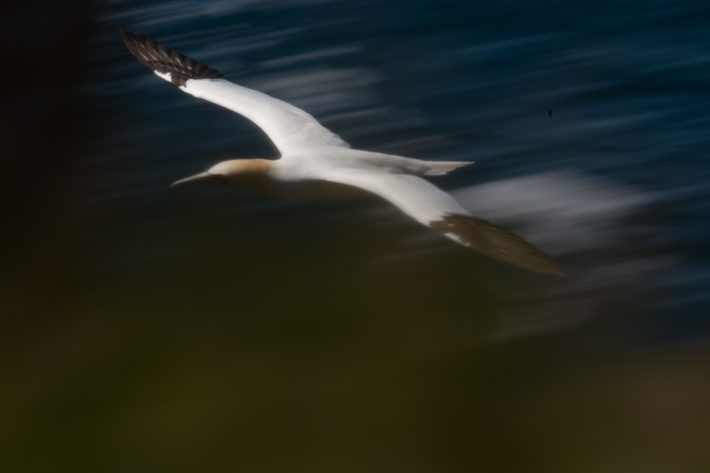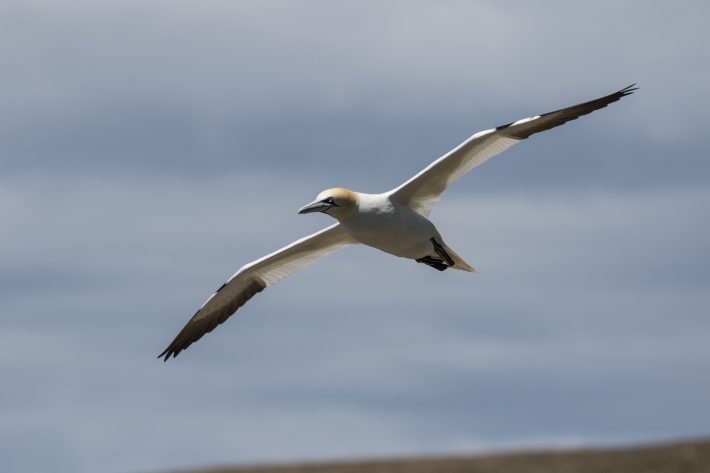 Gannets like to 'kiss' when they come back to the nest to great their partner.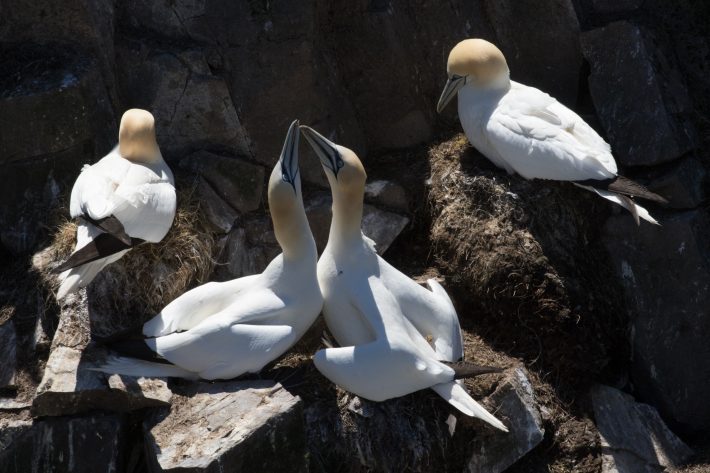 But they have to be careful where they land on returning, if they land in someone else's territory they are attacked by all the birds who where there and eventually forced to leave.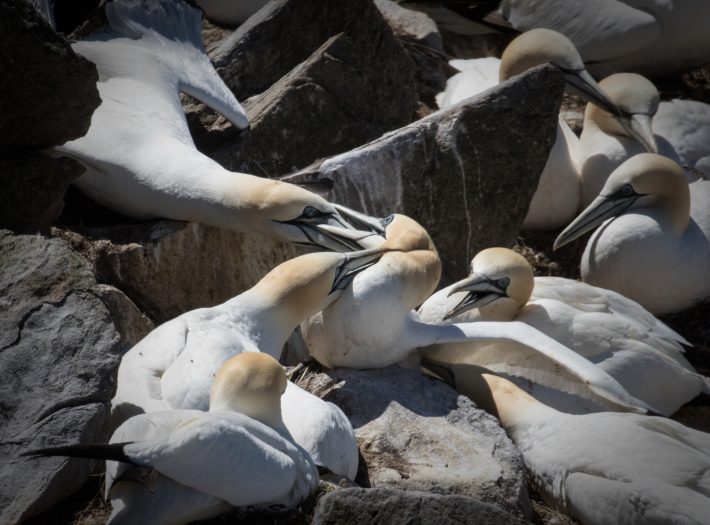 You can see more of their activity here
As we previously mentioned it seemed everyplace we went we were a week early. When we arrived arrived on the Bonavista Peninsula same story.  But this time it was pack ice, the first they had seen in June since 1974.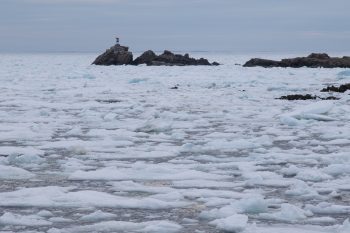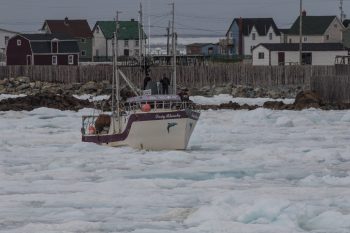 Our focus here were the puffins again.  While they were fairly far away on an small island 100 yards offshore, one day a few came to the mainland side and we got some good closeups.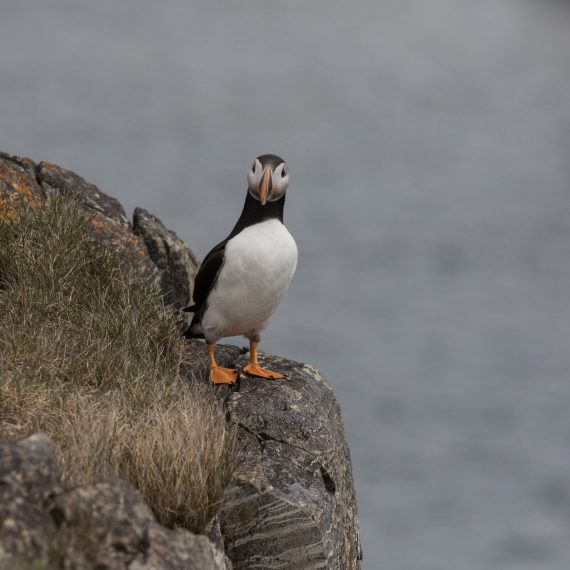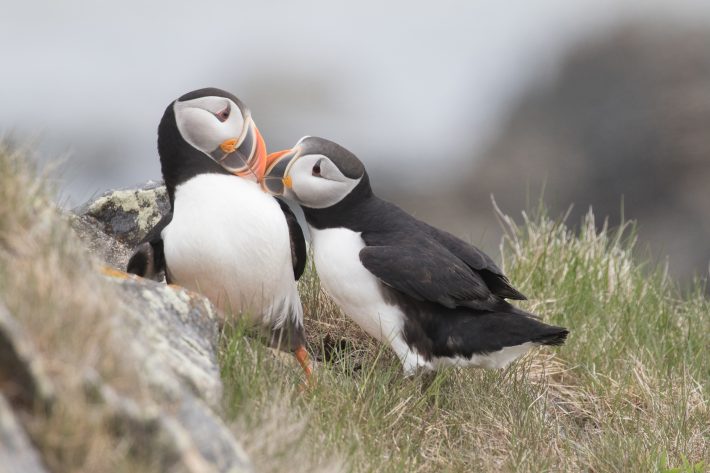 The ice also improved the chances for icebergs and whales, and Jon went out on a tour boat looking for them. After spending over 2 hours looking a whale without success (icebergs were everywhere), just as they were going in they ran across a humpback.  They saw his water spout, and then the whale dove.  A few minutes later he came up, spouted and dove again.  And he surfaced and dove 7 times in less than a half hour before they had to break off to go in (it was cold and windy and a 'rouge' wave had gotten them (especially Jon) wet).  While whales are magnificent creatures, and large (this one dwarfed our little 25 ft boat), most of their body is below water and there is not much to photograph.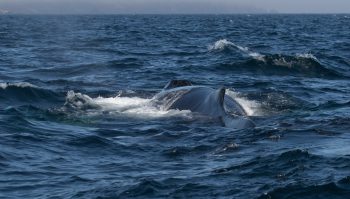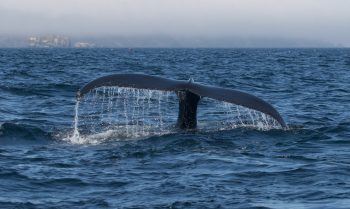 Our last stop was Twillingate, about half way across Newfoundland and in the center of "Iceberg Alley".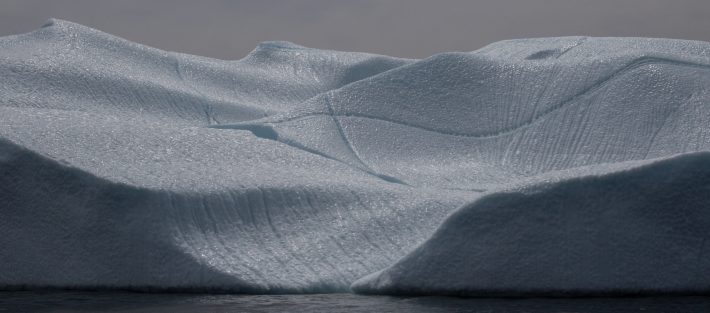 After one of those rare sunsets that lights the whole sky red and fills one with awe,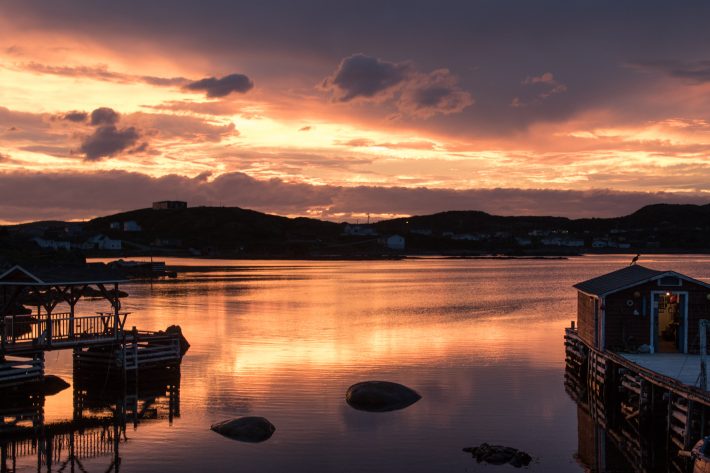 we were looking for an encore and the next night we went to a westward facing beach trying to recapture the magic.  Just as the sun was setting with some nice prospects for color in sky, a red fox came up behind us.  While this night was not a wildlife shot, we never pass up an opportunity to capture a wild fox.  Conflicted, we did both with reasonable success for each though the color of the sunset didn't come close to matching the previous' nights.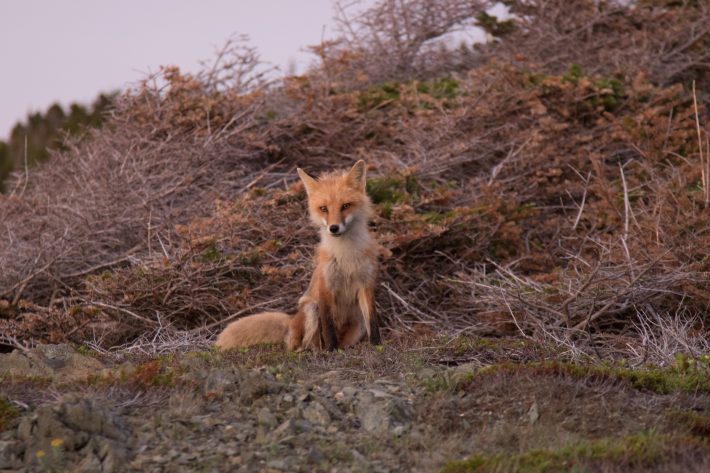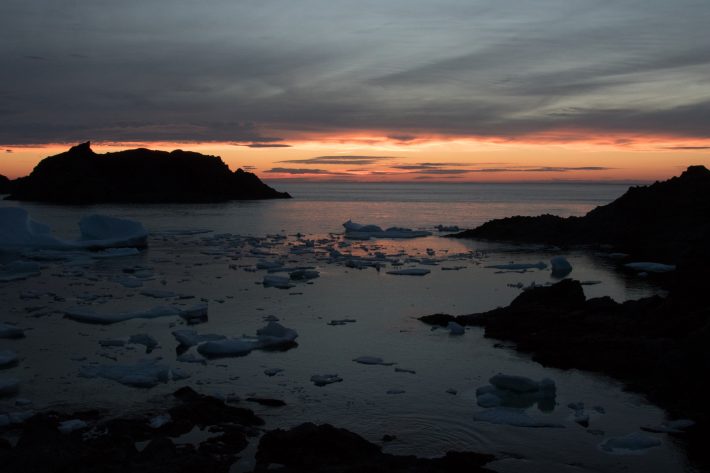 On the way home we stopped in New York to see Catherine's son, and also to do some bird photography.  Nickinson Beach has large colonies of terns and skimmers, and they are accessible