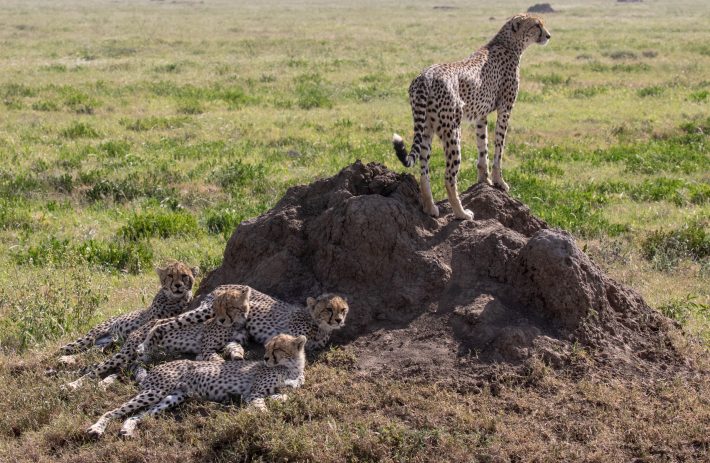 Our first stop in Serengeti was in the Namiri Plains of the Central Serengeti. It was a cheetah reserve closed to the public for 20 years to allow the cheetah population to recover. When they recovered about 5 years ago it was open to tourism, and the numerous cheetahs we saw were the highlight of our stay there.
A best sightings were a cheetah mother with her clubs which we visited on 3 days.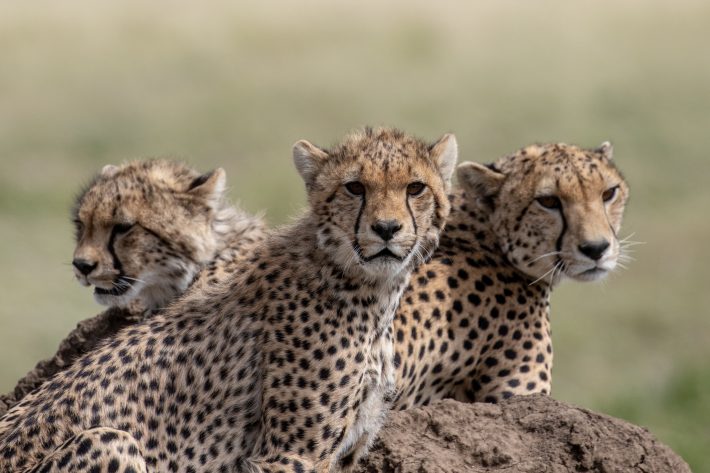 \
She was teaching them how to hunt and we were lucky enough to see two successful hunts. She would catch the antelope, and when her cubs caught up with her, release the antelope to let the cubs complete the catch. Jon videoed one
and the other we both shot stills – though Jon was in his blur mode (stupid he knows) but still managed to get a few acceptable shots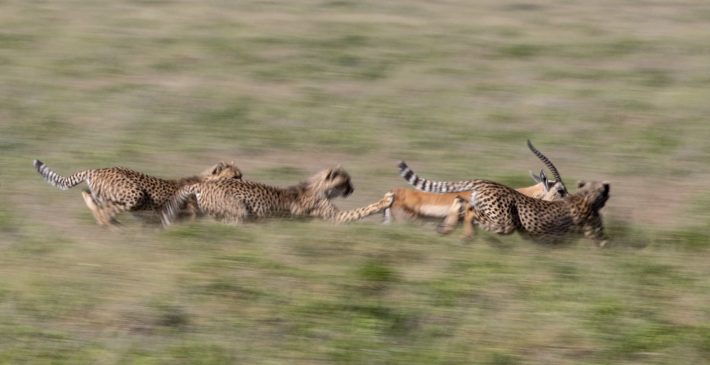 and Catherine got some great in focus shots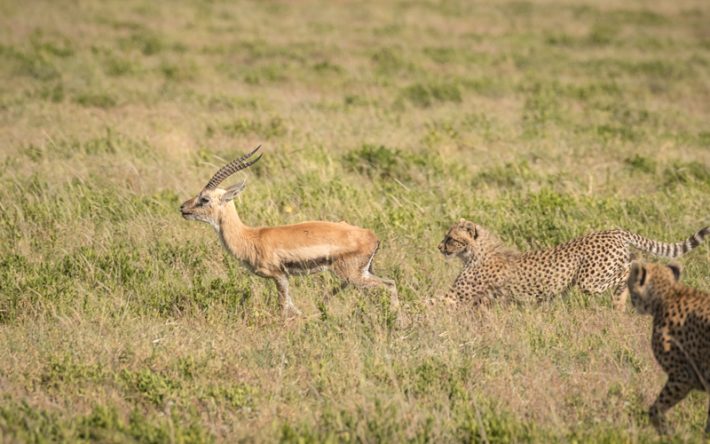 Near the camp there was a leopard mom in a rock formation (called Kopjes) with an older cub. We staked out her position at least once every day but had less luck than with the cheetahs as we did not see them hunt. But we did get some nice shots of them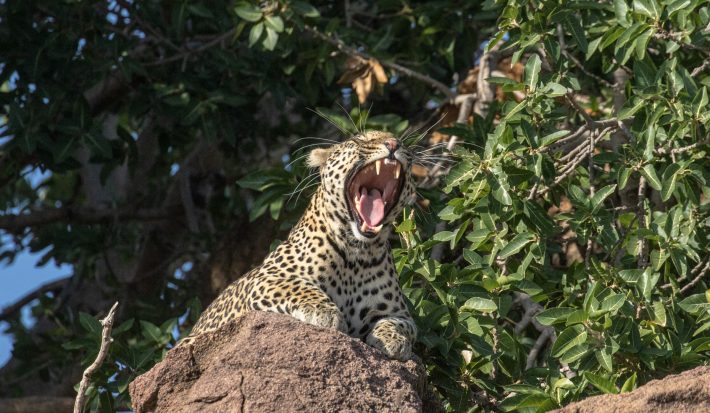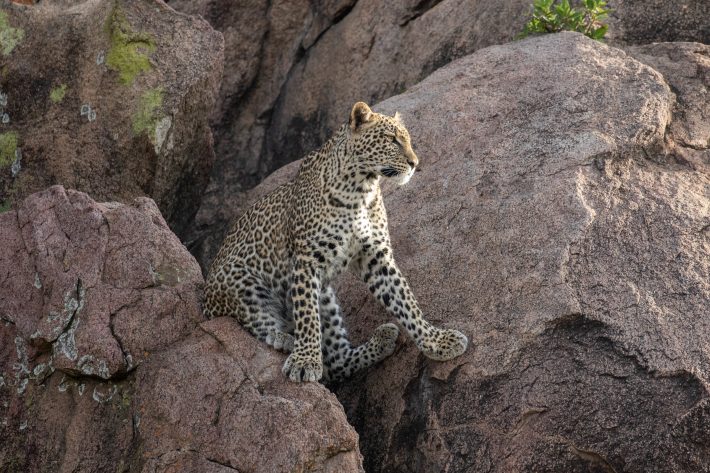 We even saw a lion to complete the trifecta of African big cats (Lion, Leopard and Cheetah)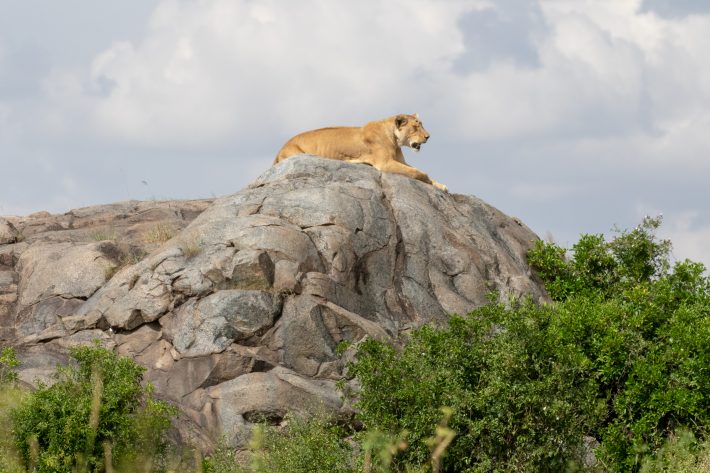 We had three first time sightings (in ten trips to Africa) : a couple of mostly nocturnal animals and a territorial display by a bird
The small cat caracal,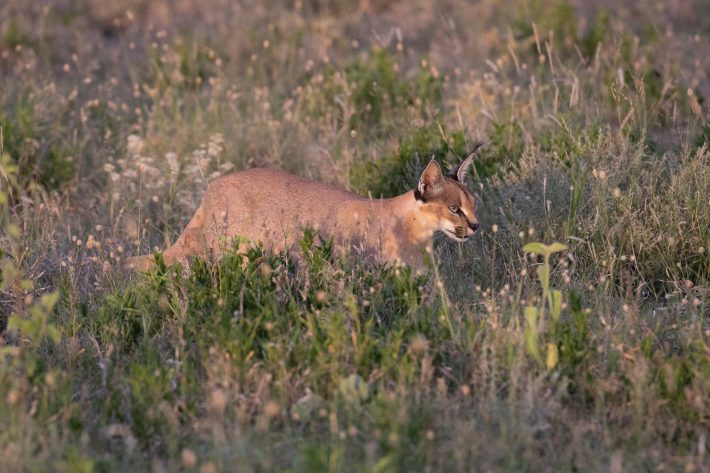 the hyena like aardwolf ,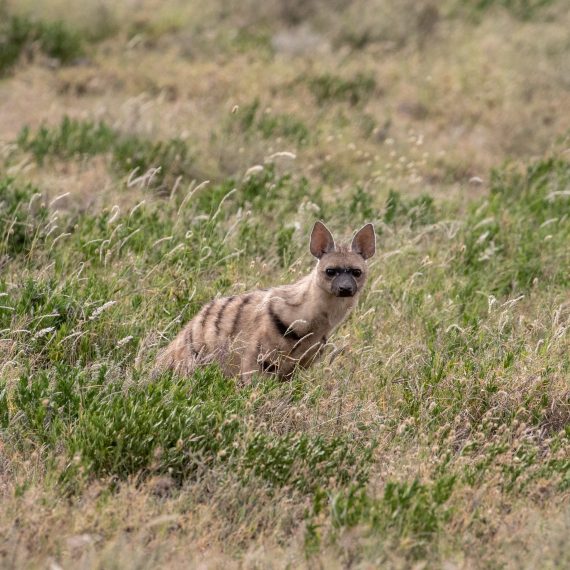 and a Kori Bustard in territorial plumage (weird)
The main wildebeest herd was already well south of here near Kusini when we arrived, we hoped they would still be there when we arrived at Kusini in about 10 days. But we did see some, including one baby who was born less than an hour before (the mom still had the placenta dangling from her rear)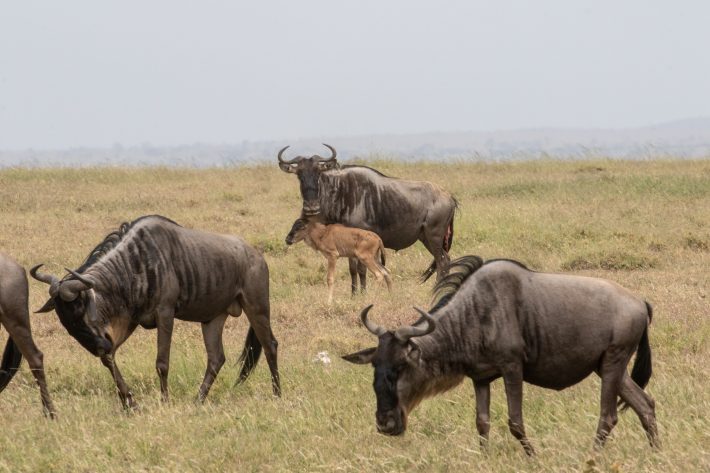 A big downside of missing the wildebeest migration was the area was the low level (some would say empty) of wildlife. We would have to routinely drive an hour or more to find them, and the roads were rough! It was tough to make 10 mph. Besides being hard on the back, the winds made it worse.
On some days they averaged 15mph with gusts over 20mph. They kicked up a lot of dust, which was bad enough when on a photo opportunity and the hoards arrived: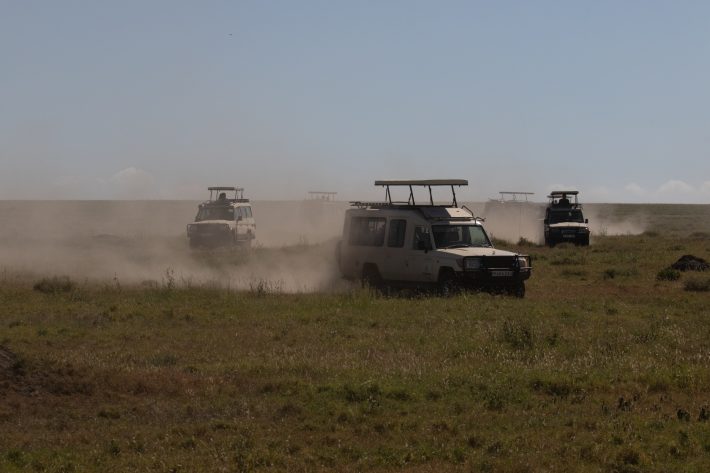 but worse was when you were driving and had the wind on your tail. A 15-mph wind goes faster than a 10mph car. So we were constantly eating we own dust!
Our next camp is about 27 miles (as the crow flies, 46 miles on the road) to the West of us in the Central Serengeti. But given the roads it is a 4+ hour drive. Normally we like massages, but the Serengeti Massage is another thing. But we heard our next camp has a masseuse, so off we went.